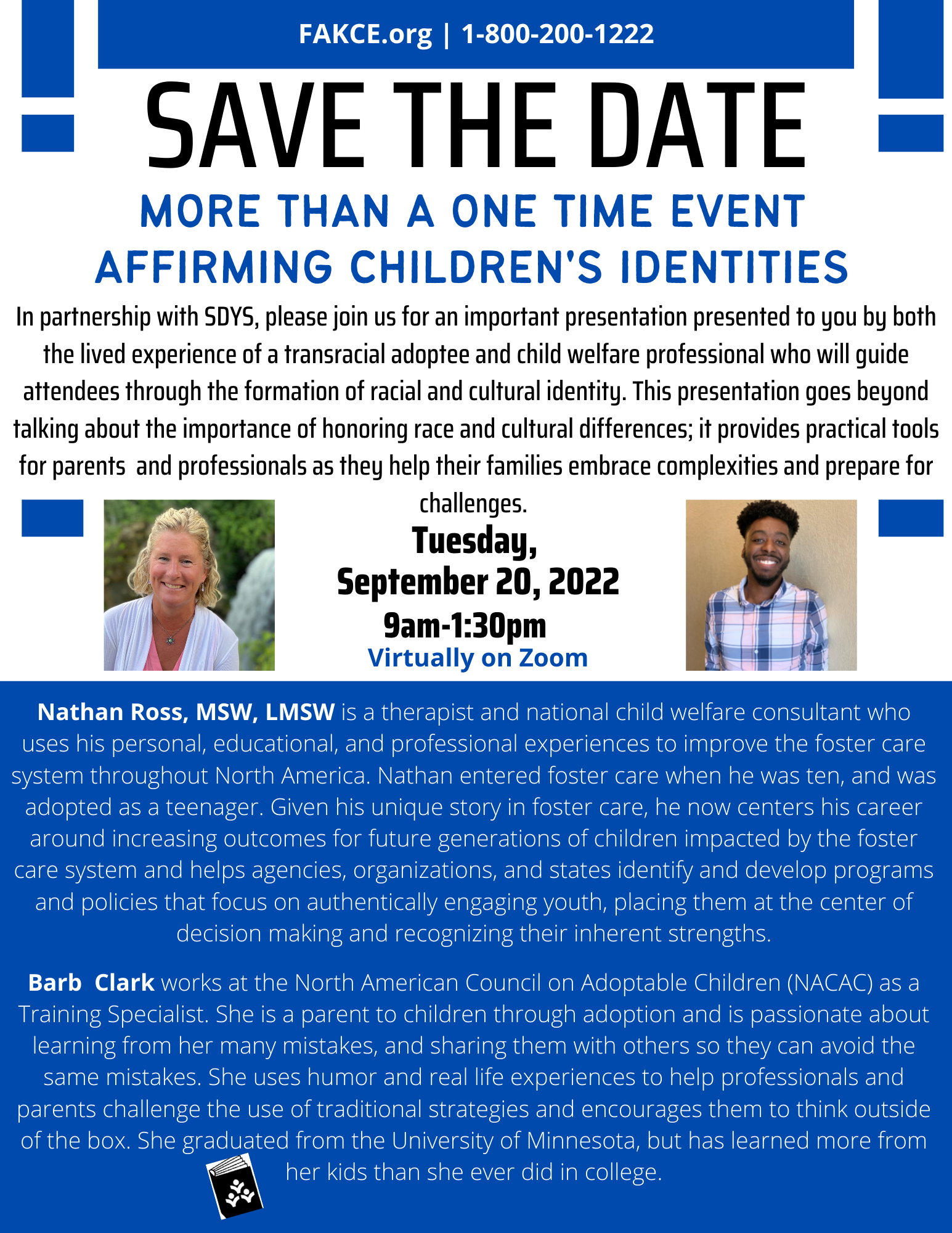 Online | More Than a One Time Event – Affirming Children's Identities
In partnership with SDYS, please join us for an important presentation presented to you by both the lived experience of a transracial adoptee and child welfare professional who will guide attendees through the formation of racial and cultural identity. This presentation goes beyond talking about the importance of honoring race and cultural differences; it provides practical tools for parents and professionals as they help their families embrace complexities and prepare for challenges.
Nathan Ross, MSW, LMSW is a therapist and national child welfare consultant who uses his personal, educational, and professional experiences to improve the foster care system throughout North America. Nathan entered foster care when he was ten, and was adopted as a teenager. Given his unique story in foster care, he now centers his career around increasing outcomes for future generations of children impacted by the foster care system and helps agencies, organizations, and states identify and develop programs and policies that focus on authentically engaging youth, placing them at the center of decision making and recognizing their inherent strengths.
Barb Clark works at the North American Council on Adoptable Children (NACAC) as a Training Specialist. She is a parent to children through adoption and is passionate about learning from her many mistakes, and sharing them with others so they can avoid the same mistakes. She uses humor and real life experiences to help professionals and parents challenge the use of traditional strategies and encourages them to think outside of the box. She graduated from the University of Minnesota, but has learned more from her kids than she ever did in college.
Registration will close on Monday, September 19, 2022, at 12pm 
***Please Note: This class will be facilitated on the online platform called Zoom. Internet access and access to a computer/laptop/tablet/smartphone is required to attend.
The link to attend this class will be provided at registration.
Please follow the link below for a brief tutorial on how to sign up for a free Zoom account.
.
Register Here
Do you already have an account with us?
Sign In
Log in if you already have an account with us.