Resources
Search below for information and phone numbers for programs dealing with
Foster Care, Adoption, Respite Care, the Foster Parent Mentor Program and Kinship Care.
If you know someone who wants to become a foster parent, have him/her call the number below to get details on a Foster Parent Orientation in their neighborhood.
(877) 792-KIDS (5437)
If you know someone who is looking for the foster parent initial or pre-service classes "TIPS" Trauma Informed Pre-Service. Have them to call this number for information and/or to register:
(800) 200-1222
IMPORTANT: For people who take TIPS, but do not get their Foster Home license right away, TIPS must be completed within the last 12 months at the time of the License application, otherwise it must be repeated. Get your application in ASAP.
If you know someone who wants to adopt a child from the county, have them call for more information:
(877) 423-6788
En Español llame al (619) 409-3125
If your Adoption Social Worker has told you that you need to take the "Adoption Preparation" classes, call the toll free registration line to register:
(800) 200-1222
If you are a foster or kinship parent who has a child placed through the County of San Diego Juvenile Court Dependency Section, call Maxim Companion Services to arrange FREE respite care:
(866) 233-1913
Foster Parent Mentor Program
If you are a foster parent licensed through the County of San Diego, you qualify for this unique program designed to increase retention and placement stability of foster care placements.
To have a mentor assigned to assist with issues like systems problems, personal problems, child or biological parent problems, and help in finding resources, call:
(800) 200-1222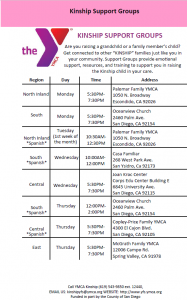 Click here for Kinship Support Group Schedule
If you are a relative raising a child such as a grandparent, aunt or uncle; you are a kinship caregiver.
If you, or someone you know, is raising a child either placed by the Juvenile Court or informally, you can call the YMCA Kinship Navigator Program which coordinates support groups. They also have navigators who are able to assist individual kinship caregivers in a wide variety of ways. Call them at:
(877) YMCA4KIN | (877-962-2454)
EDUCATION
There is no formal requirement for you to attend classes or workshops, but many kinship caregivers have expressed a desire for more training in specific areas to help them better meet the needs of the children in their care and themselves as well. You are welcome to attend any of our classes or workshops.
There are also support groups especially for kinship caregivers that are listed below. Food and childcare are provided at some the meetings through an FAKCE sub-contract with the YMCA. There are some other groups that meet on their own in the community.
For information about the Kinship Support Groups, please contact the YMCA Kinship Program at
(619) 543-9850 ext. 12440,
or e-mail: email hidden; JavaScript is required
You can also visit the website: 
http://www.yfs.ymca.org