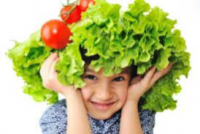 Creando Hábitos Saludables de Alimentación con Sus Hijos
Date/Time
09/14/2018 | 6:00 pm - 9:00 pm
Location
HHSA Chula Vista
Type of Class
Instructora: Emma Martínez-Tidmore, Madre de Crianza/Entrenadora
¿Por qué tengo que comer mi brócoli? ¿Por qué debo tomar leche con mi almuerzo? Probablemente muchos padres han  escuchado estas preguntas antes. Los niños son curiosos y enseñarles sobre nutrición puede explicar por qué servimos comidas y refrigerios saludables en la escuela y en el hogar. Enseñar a los niños sobre los beneficios de alimentos salúdales puede ayudar a promover una alimentación saludable desde una edad temprana.
También, cada comida es una oportunidad para una experiencia familiar. La comida une a la familia! El unirse también ayuda para que los niños aprendan a elegir alimentos saludables y aprender hábitos positivos con su comida.
No hay cuidado de niños. Por favor no traiga a los niños a la clase. ¡Gracias!
Bookings
If you plan to book multiple classes throughout the year, please create a User Account by clicking Sign Up. Your account will allow you to sign in at any time, have a history log of all the classes you register for, cancel any classes and register for multiple classes in one session.

If you decide not to create an account, non-account holders will enter their information to the left to book a class during each registration session.

If booking more than one space, please provide first and last name of additional participants in the comments box.
Bookings are closed for this event.