Online | The Exchange
In Partnership with the National Conflict Resolution Center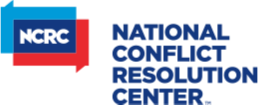 In this innovative course, mediation skills and strategies are adapted to provide a structured pro organizations and/or communities.
Registration will close on Monday, August 21, 2023 at 12 pm
***Please Note: This class will be facilitated on the online platform called Zoom. Internet access and access to a computer/laptop/tablet/smartphone is required to attend.
The link to attend this class will be provided at registration.
Please follow the link below for a brief tutorial on how to sign up for a free Zoom account.