Map Unavailable
Online | A Deep Look at Science and Scale: Understanding the Importance of Early Childhood Development
Date/Time
03/14/2022 - 03/28/2022 | 6:00 pm - 9:00 pm
Location
Zoom
Type of Class
Special Guest Instructor:
Pradeep Gidwani, MD, MPH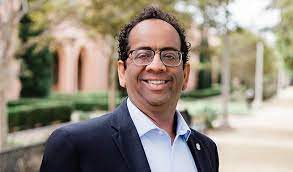 Dr. Pradeep Gidwani is a pediatrician and community health leader focused on creating systematic solutions and changes to improve the lives of children and their families. Dr. Gidwani is currently the Medical Director at the American Academy of Pediatrics, CA Chapter 3 (AAP‐ CA3) of two countywide projects, Healthy Development Services and First 5 First Steps family support program. He is also a Child Trauma Academy Fellow and a member of the Child Health Leadership Network through the Annie E. Casey and David and Lucile Packard Foundations. Dr. Gidwani teaches at San Diego State University in the Department of Child and Family Development.
A series of 3 Workshops
(registering in Part 1, will automatically register you in all sessions)
Part 2 | Monday, March 14, 2022 6pm – 9pm
Your Child's Social Emotional Development: The Key to Their Behavior
Your child's behavior tells you what is happening inside their world. By understanding social-emotional development, we learn the language of our child's behavior. We can help a child's behavior with compassion.
Part 3 | Monday, March 21, 2022 6pm – 9pm
Helping Your Child Develop Self-Regulation: The Key to Lifelong Success
Self‐regulation is the best predictor of lifelong success. As parents, we help a child develop self‐regulation through co‐regulation.
Part 1 | Monday, March 28, 2022 6pm – 9pm [Makeup Session]
Your Child's Development: The Key to Helping Children Physically, Emotionally, Mentally, and Socially Grow
In this session, we learn how to monitor your child's development and how you can help them to grow. We will explore activities at home to help your child's development and when to reach out for help. We will explore the resources available in our community.
Registration will close on Monday, March 14, 2022, at 7 am
***Please Note: This class will be facilitated on the online platform called Zoom. Internet access and access to a computer/laptop/tablet/smartphone is required to attend.
The link to attend this class will be provided at registration.
Please follow the link below for a brief tutorial on how to sign up for a free Zoom account.
Bookings
If you plan to book multiple classes throughout the year, please create a User Account by clicking Sign Up. Your account will allow you to sign in at any time, have a history log of all the classes you register for, cancel any classes and register for multiple classes in one session.

If you decide not to create an account, non-account holders will enter their information to the left to book a class during each registration session.

Submit one form per participant. Each participant MUST register individually using their legal name and information. No credit will be given to participants not registered for the class. If registering on behalf of someone else, please use their information when registering, NOT YOURS. Thank you!
Bookings are closed for this event.