NEW CLASS! The Connected Child
Date/Time
03/11/2017 | 8:30 am - 4:30 pm
Location
San Diego County Foster Parent Assoc.
Type of Class
Children and youth who have experienced foster care have often experienced complex  developmental trauma. Trust based parenting teaches caregivers to provide effective support in the development of   safety, the promotion of healing relationships, and teaching of self-management and coping skills.
Join us for this new and exciting class based on the book, The Connected Child and the principles of  Empowerment- attention to physical needs; Connection- attention to attachment needs; and   Correction- attention to behavioral needs. These principles help both caregivers and children learn healthy ways of interacting which can aid in the child's healing process.
Light lunch will be provided and each family will receive a free copy of The Connected Child.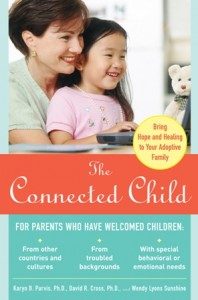 Instructors: Denise Phipps, MFT &  Jeanne Schwertfeger, Foster/Adoptive Parent Trainer
Bookings
If you plan to book multiple classes throughout the year, please create a User Account by clicking Sign Up. Your account will allow you to sign in at any time, have a history log of all the classes you register for, cancel any classes and register for multiple classes in one session.

If you decide not to create an account, non-account holders will enter their information to the left to book a class during each registration session.

Submit one form per participant. Each participant MUST register individually using their legal name and information. No credit will be given to participants not registered for the class. If registering on behalf of someone else, please use their information when registering, NOT YOURS. Thank you!
Bookings are closed for this event.