From Fear to Love
Date/Time
12/01/2018 | 8:30 am - 4:30 pm
Location
Straight From The Heart
Type of Class
Instructors:  Patty Robles, MSW & Angelina Puffelis, LMFT
Many parents of foster and adopted children express their fear not only for their child's present behaviors but for what will become of them in the future. This class will explore the core challenges faced by foster and adopted children.
From Fear to Love, by Bryan Post, provides caregivers tools through a love-based approach to implement sustainable solutions. Caregivers will find hope and solutions for the challenges their families face.  From Fear to Love offers a clear-cut approach that creates peace and healing for families who once operated in fear and can now experience love.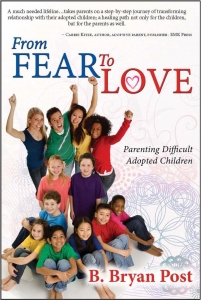 Please note, no childcare is provided or available onsite. Do not bring babies or children to class. Thank you!
Bookings
If you plan to book multiple classes throughout the year, please create a User Account by clicking Sign Up. Your account will allow you to sign in at any time, have a history log of all the classes you register for, cancel any classes and register for multiple classes in one session.

If you decide not to create an account, non-account holders will enter their information to the left to book a class during each registration session.

If booking more than one space, please provide first and last name of additional participants in the comments box.
Bookings are closed for this event.