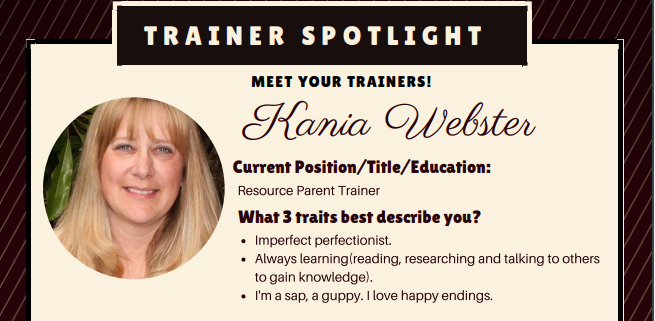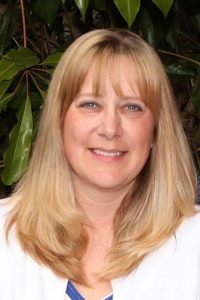 Trainer Spotlight
Name: Kania Webster
Current Position/Title/Education: Resource Parent Trainer
How did you get started in the field? After spending the last 14 years helping my foster and adopted children with the issues they have to deal with, I was given the opportunity to share my knowledge with our new resource parents.
How long have you been working in the field?   14 years
 What are your motivations for working with the child welfare system?  My husband and I had fostered 3 children from our neighborhood. We decided we had the time and love to offer to other children in need. We went into this to adopt 1 child. Now, after our 5th adoption, we still have the time, the love and the desire to help other children in need.
Most rewarding aspect of your career? Personally, I love giving all the information I can to new resource parents.  We looked everywhere, read everything and talked to anyone we could when we began this journey. I hope I am helping these wonderful parents to succeed in their journey and feel better prepared for it.
Facts about yourself:
What 3 traits best describe you?
I am an imperfect perfectionist
I am always learning (reading, researching and talking to others to gain knowledge)
I'm a sap, a guppy. I love happy endings.
Where are you from? Colorado Springs CO
What are your hobbies? I LOVE to cook!! Making and perfecting new recipes!
I also enjoy gardening, sewing, hiking, camping and spending time with my family.
Anything else you would like mentioned?
We are blessed to have a wonderful village to help us with our journey.  Our friends, family and employers have been amazing and we could not do what we do without them.  It is very true that not everyone can be a foster parent but anyone can help a foster child. We need to take excellent care of these children so they can have the best chance at a wonderful life!
http://fakce.org/wp-content/uploads/2018/02/Kania-Trainer-Spot-Light-1.png
346
655
Daniela Murphy
http://fakce.org/wp-content/uploads/2015/03/fakce_website_logo.png
Daniela Murphy
2018-02-22 15:25:33
2018-02-22 15:31:05
Trainer Spotlight