Resilience – The Biology of Stress and the Science of Hope
Date/Time
11/05/2018 | 6:00 pm - 9:00 pm
Location
Straight From The Heart
Type of Class
Instructor: Nicole Espinoza, LCSW
Resilience is a documentary that takes a deeper look into the science of Adverse Childhood Experiences (ACEs) and the increased risks for physical and mental health problems in adulthood.
Resilience chronicles the promising beginnings of a national movement to prevent childhood trauma, treat toxic stress and greatly improve the health of future generations. Join our discussion on the effects that trauma has on our youth's resilience, how it affects our community and what we can do to support our children and youth moving forward.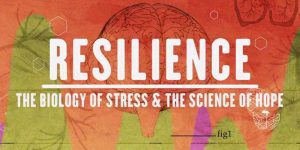 Please note, no childcare is provided or available onsite. Do not bring babies or children to class. Thank you
Bookings
If you plan to book multiple classes throughout the year, please create a User Account by clicking Sign Up. Your account will allow you to sign in at any time, have a history log of all the classes you register for, cancel any classes and register for multiple classes in one session.

If you decide not to create an account, non-account holders will enter their information to the left to book a class during each registration session.

Submit one form per participant. Each participant MUST register individually using their legal name and information. No credit will be given to participants not registered for the class. If registering on behalf of someone else, please use their information when registering, NOT YOURS. Thank you!
Bookings are closed for this event.