Map Unavailable
Hybrid | North County Support Group: Real Stories and Prevention ‐ Commercial Sexual Exploitation of Children
Date/Time
03/09/2022 | 6:00 pm - 8:00 pm
Location
Zoom
Type of Class
Meets 2nd Wednesday of the month
**No meetings July, August & December 2022**
Support Group Leader: Rhonda Oliver
Topic: Screening of "Shattered Dreams" a documentary made by Palomar College based in San Diego County about how to stop human trafficking, followed by a group discussion. Local leaders are featured in the film.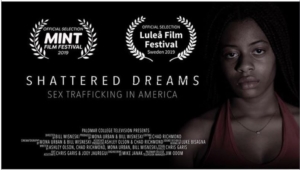 Hybrid Class Format: 
This class will be held in a hybrid format. Participants may choose to attend class in person at the location below or participate online via Zoom. If attending on Zoom, internet access and access to a computer/laptop/tablet/smartphone is required to attend. Please indicate your preference in the booking section below.
Registration will close on Wednesday, March 9, 2022 at 7am 
However, walk-ins for in-person attendance are welcome.
In-Person Location (Mask Required) :
839 W. San Marcos Blvd. San Marcos, 92078
Online Participation Requirements
***Please Note: This class will be facilitated on the online platform called Zoom. Internet access and access to a computer/laptop/tablet/smartphone is required to attend.
The link to attend this class will be provided on the day of class
Please follow the link below for a brief tutorial on how to sign up for a free Zoom account.
Bookings
If you plan to book multiple classes throughout the year, please create a User Account by clicking Sign Up. Your account will allow you to sign in at any time, have a history log of all the classes you register for, cancel any classes and register for multiple classes in one session.

If you decide not to create an account, non-account holders will enter their information to the left to book a class during each registration session.

Submit one form per participant. Each participant MUST register individually using their legal name and information. No credit will be given to participants not registered for the class. If registering on behalf of someone else, please use their information when registering, NOT YOURS. Thank you!
Bookings are closed for this event.