The Exchange
Date/Time
03/10/2018 | 8:30 am - 4:30 pm
Location
San Diego County Foster Parent Assoc.
Type of Class
Instructors: Hanna Venizelos Program Manager, Training Institute
Conflict is a natural part of relationships. Conflict can range from small disagreements to arguments. Conflict can also look like uncomfortable silence, anger, and hostility.
The Exchange process, based upon mediation theory and methodology, is a four-stage process for resolving conflicts. Participants will discuss the importance of collaboration and the consequences of unresolved conflict.
Acknowledging that a variety of strategies can be used to manage conflict, this training reinforces an interest-based approach to resolving issues. Before the formal process of the Exchange is taught, participants will also learn the ART of communication.
The Exchange training will give participants new ways of communicating collaboratively, new approaches to conflict, new skills to deal with it, and an adaptable and structured process to successfully manage a wide variety of community/family issues and conflicts.
Special thanks to the National Conflict Resolution Center for co-sponsoring this event. Typically a $395 per person training, this event is free for our resource parents.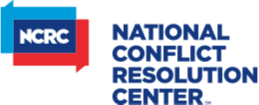 Bookings
If you plan to book multiple classes throughout the year, please create a User Account by clicking Sign Up. Your account will allow you to sign in at any time, have a history log of all the classes you register for, cancel any classes and register for multiple classes in one session.

If you decide not to create an account, non-account holders will enter their information to the left to book a class during each registration session.

If booking more than one space, please provide first and last name of additional participants in the comments box.
Bookings are closed for this event.