Lead Poisoning: What You Need To Know!
Date/Time
11/01/2018 | 7:00 pm - 9:00 pm
Location
San Diego County Foster Parent Assoc.
Type of Class
Instructor: Jamie Culbert, MPH, Community Health Promotion Specialist II with the County of San Diego Health & Human Services Agency
Lead poisoning can harm a child's developing nervous system and brain and cause learning and behavior problems that last a lifetime. Most children who are lead poisoned will not look or act sick. Children under the age of 6 are at the greatest risk for lead poisoning. Learn about lead poisoning, risk factors, and possible sources a child may be exposed to while in your care as well as simple steps you can take to prevent lead poisoning.
** This workshop includes a lead testing activity, so if you have items in your home you think may have lead (such as ceramic pottery, water crocks, jewelry, toys, etc.), you are encouraged to bring them with you to the workshop.**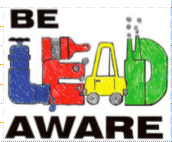 Bookings
If you plan to book multiple classes throughout the year, please create a User Account by clicking Sign Up. Your account will allow you to sign in at any time, have a history log of all the classes you register for, cancel any classes and register for multiple classes in one session.

If you decide not to create an account, non-account holders will enter their information to the left to book a class during each registration session.

Each person in your party that is planning to attend a class must book her/his space separately so that we may track attendance for credit.
Bookings are closed for this event.